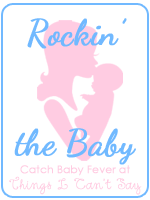 It's a chance to show off some baby pictures - you know I can't resist that! Brought to you by a lovely and thoughful blog called
Things I Can't Say
, a cute baby meme (a blog gathering with a theme)! Go on over and see lots of very cute baby pics! But first see mine right here -
Aliza at about 6 months, bright eyed and bushy tailed.
Check out those curls!
The attitude kicked in quite early with this one. "Get that camera out of my face and get my chocolate milk!"
AJ on the left, Zack on the right, at about 2 months. Zack was the petite one for the first 2 years or so.
Zack on the left - AJ on the right. On their first birthday -- and showing off their two teeth, each.
About 19 months old, loving the heck out of each other.
One of the first times they stood up!