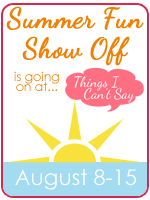 Summer Fun Photos linkup!
Over @
Things I Can't Say
There are prizes to be awarded in this link up, but I'm not sure what they are. I'm trying to save up for an ipad, so all I want is cash. Cold, hard cash. If the kids are insanely well behaved for the entire rest of the summer, I might let them see it once or twice. But it's going to be MY ipad, because they are in the process of destroying my laptop.
Anyway, here's our fun photos of summer 2011........
The bunny ears comedy routine is mostly lost on my boys, but Aliza does it anyway.
He can see The Wiggles much better from up here!
Not sure what happened to the "filmstrip" effect on this one.
Monkeys need naps too.
There are ducks down there somewhere.