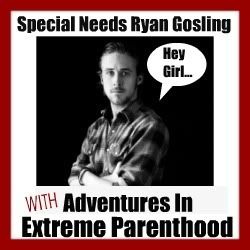 I recently hired a manny. Have I mentioned that? Yep. I'll have a lot more time for blogging now, with Ryan here to play with the kids. I guess he wanted a little break from the whole acting thing and wanted to do something meaningful. It's nice, I didn't know he had such strong, loving feelings for kids with Fragile X.
Sunday over at
Adventures in Extreme Parenthood
has been doing this weekly thing now for awhile called Special Needs Ryan Gosling, and it's just too fun not to participate.
She posts a picture of Ryan Gosling and you add some text to it. Pretty simple, but I had a tough time figuring out what to put, because it was important that I include Fragile X somehow, of course.
You should go to
Extreme Parenthood
though, and read all the entries. They are all so funny!